home
Saihou Darboe
Specialist in Tie 'n' Dye & Batik Skills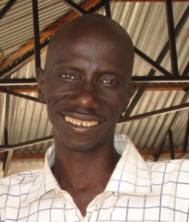 Saihou teaches both theoretical and practical skills to young people who have come to Sunrise Skills Training Centre to learn new skills. He also teaches Life Skills using a study course book produced by UNICEF.
Saihou has been trained to teach the Life Skills course by UNICEF. This covers the many important areas of knowledge that young people need to help them make good decisions and lots of information about health, including important teaching on AIDS.
Tie 'n' Dye & Batik Skills are in great demand throughout the Gambia, both for use in the commercial environment and in the home. Saihou holds a Diploma and has written a text book to support his work, showing the approach and techniques that make him a specialist. We hope to rewrite and publish a Sunrise version of this book in the next few months. He previously taught at Bokalo Skills Training in Abuku for 17 years, he also holds a Registration certificate with the National Training Authority (NTA) from 2010.
Saihou has lived in Brusubi for four years. He has a wife named Naba Keita Darboe and four children - Mymoona, Hadim, Jojo, and Sheikh Tijan.
He moved to Brusubi from Memakunku, between Sukuta and Latrikunda. His Mother is a Wolof and father a Mandinka, both originally coming from Banjul. Saihou speaks Wolof, Mandinka, Bambara (Mali Language), French, Fula, Arabic (Libyan) and of course good English.
Saihou has travelled outside of Gambia extensively including Nigeria, Cameroon, Ghana, Algeria, Morocco and Libya.
He rides a motorcycle to work and has a full car driving licence.