June and July
Term 3 always has a First Aid course from our friends at First Aid 4 Gambia. Their local Trainer (Momodou Laineh) came to talk and present practical first aid to students from Skills 3. This is great timing, just before they leave us to go into employment.
Momodou also brought donated free supplies to top up our depleted first aid kits, shown with first aider, Fatou Singhateh. This is essential at this time of year. Thank you!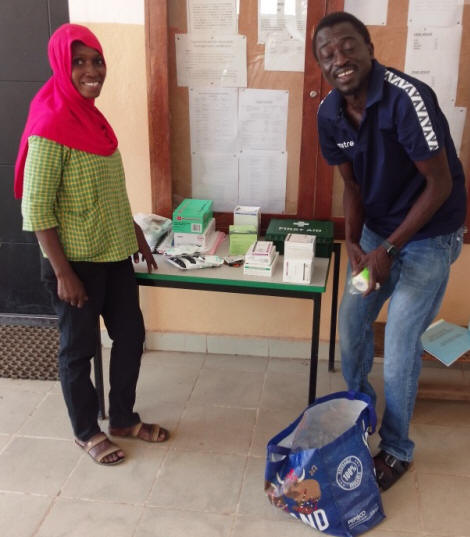 This is a good time to prepare the garden area within Sunrise, with rains just beginning. The picture shows LB5 preparing beds for Sorrel (used to make the local drink, Wanjo). LB5 teacher Bakery Saidy is instructing.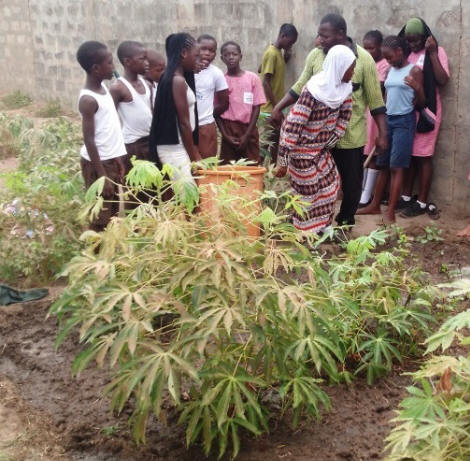 Skills 2 have been making beaded handbags in their practical handicraft work.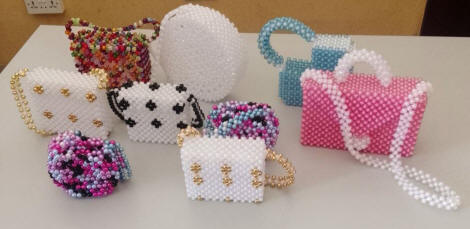 We always struggle to keep enough play equipment in a functioning state. New footballs, tennis balls and pumps have been donated to add to the supplies for play time and PE use.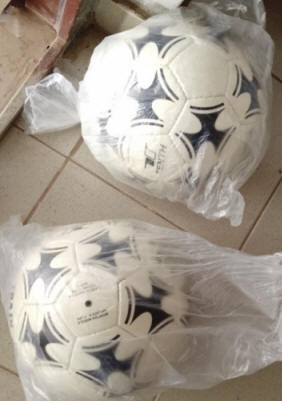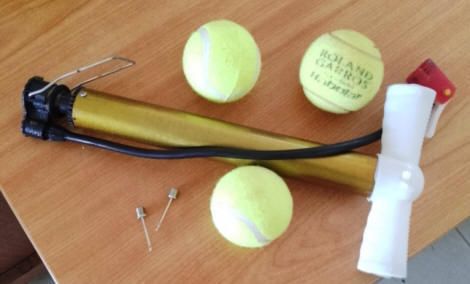 Skills 3 have been working on Tie and Dye comb designing in the Bantaba practical area. This uses flour to stop the colour from reaching the cloth.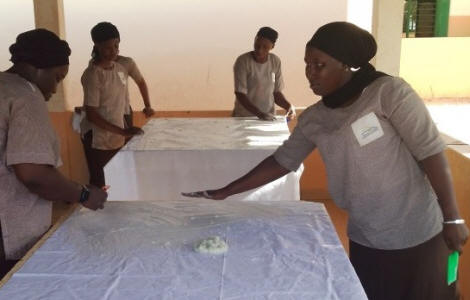 Skills 1 all gathered to present their Cookery practicals for tasting in the Hall.

Great to see the children playing on our equipment, (Lower Basic in red and Nursery in yellow) quite oblivious to the humidity that most Europeans struggle with at this time of year. The conditions seem to suit our big shady tree that has become huge now.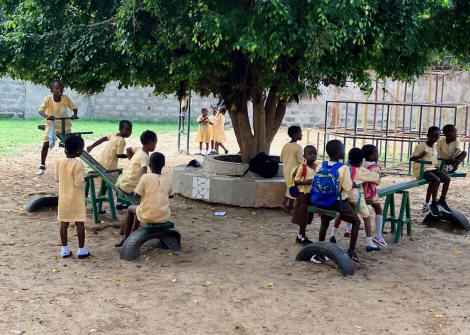 LB6 and Skills 6 have been doing the end of school exams before graduating, in the hall. Teachers try and keep the other 300+ students quiet during this time. Not easy.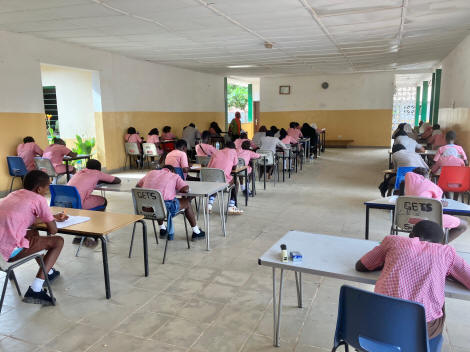 Mr Cham is still working with NAQAA to secure our re-accreditation for the Skills Training School. This is never easy.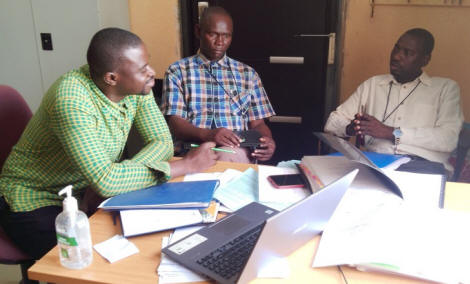 This is also the time of school outings and excursions.
Half of Lower Basic (LB4, 5 and 6) were on their way off to the National Museum in Banjul.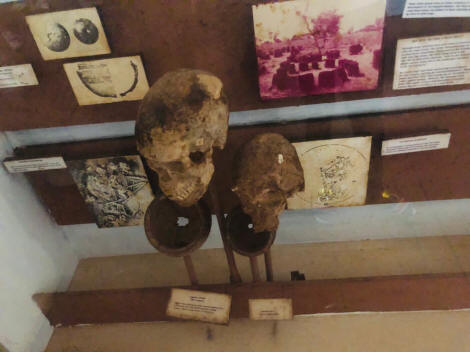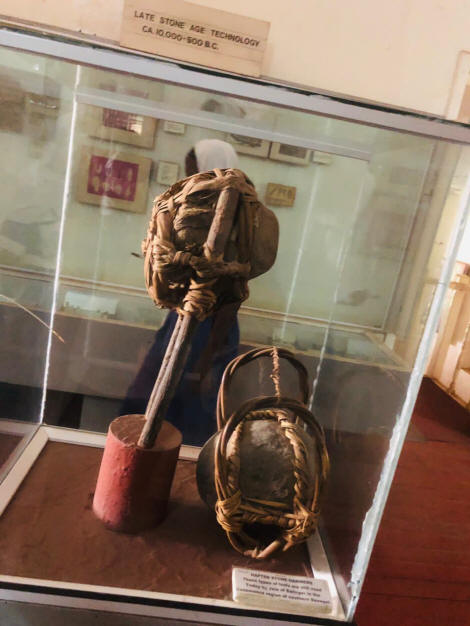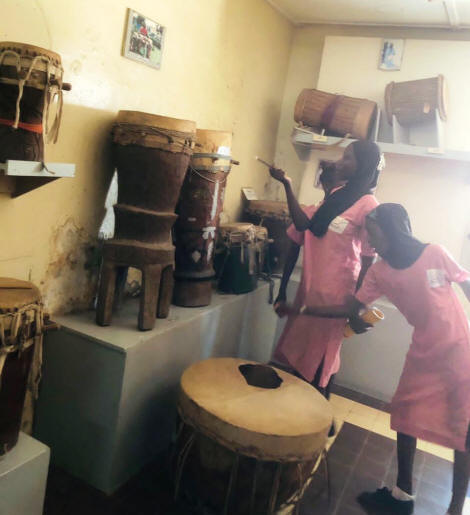 Then they went to the National Assembly (Parliament) building followed by a picnic on the beach.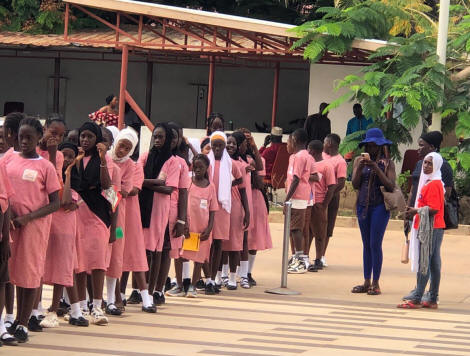 We've now bought all the uniform cloth for next year, delivered to Sunrise by our supplier in Banjul.
.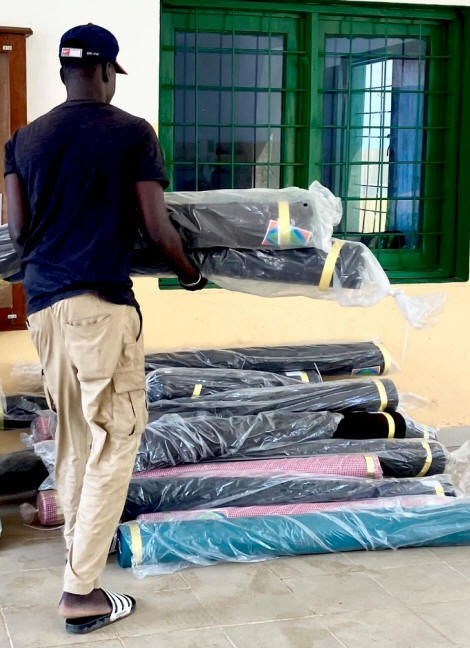 The new rains have already started to spoil much of the sand roads around the country. Even the levelled roadway outside of Sunrise has suffered. A wet and muddy surface tends to form as the early rains soak and then dry up, churned up by traffic.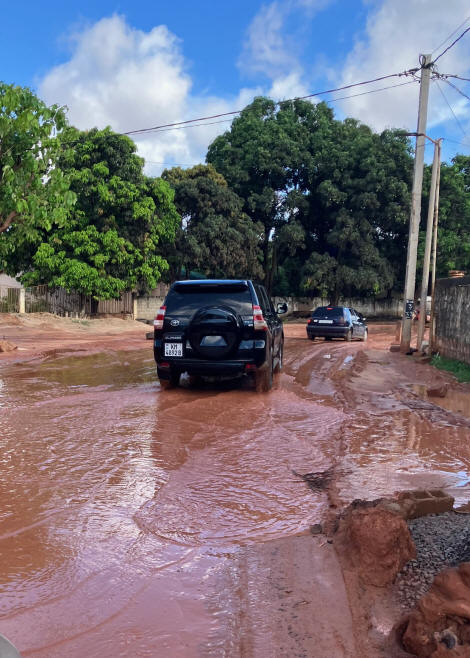 The rains are usually accompanied by lightning shows and associated strikes. Being on a high point in the area, Sunrise seems to attract its fair share of these, this time damaging the incoming power cables (now repaired by Power and Water Company NAWEC) and destroying internal wiring above the Hall to Lower Basic and the office, as well as our water pump.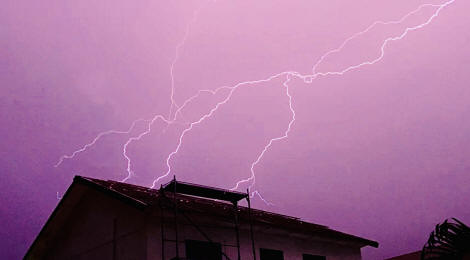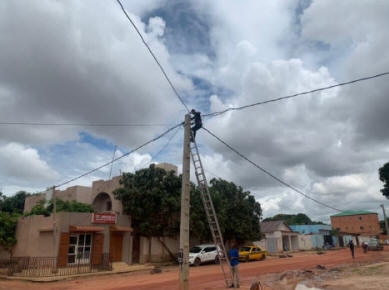 Repairs took more than a week, during this time the Office was able to work just on solar power. Our school roof was tested again in heavy wind and rains and we made yet more repairs.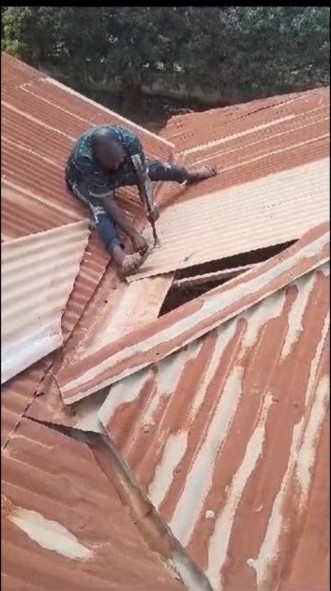 Every year either LB3 or LB5 have to do an Nationally Assessed and marked test (NAT). This year is was LB3, with Mr Thomas from SOS school managing the process.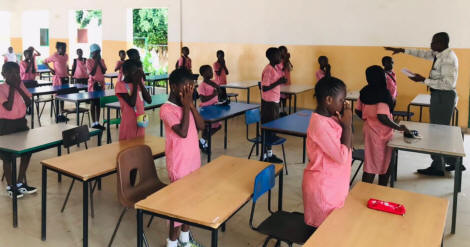 We had a joint Graduation ceremony for LB6 and Skills 3 It was quite a crush to fit all the guests into the Hall for this.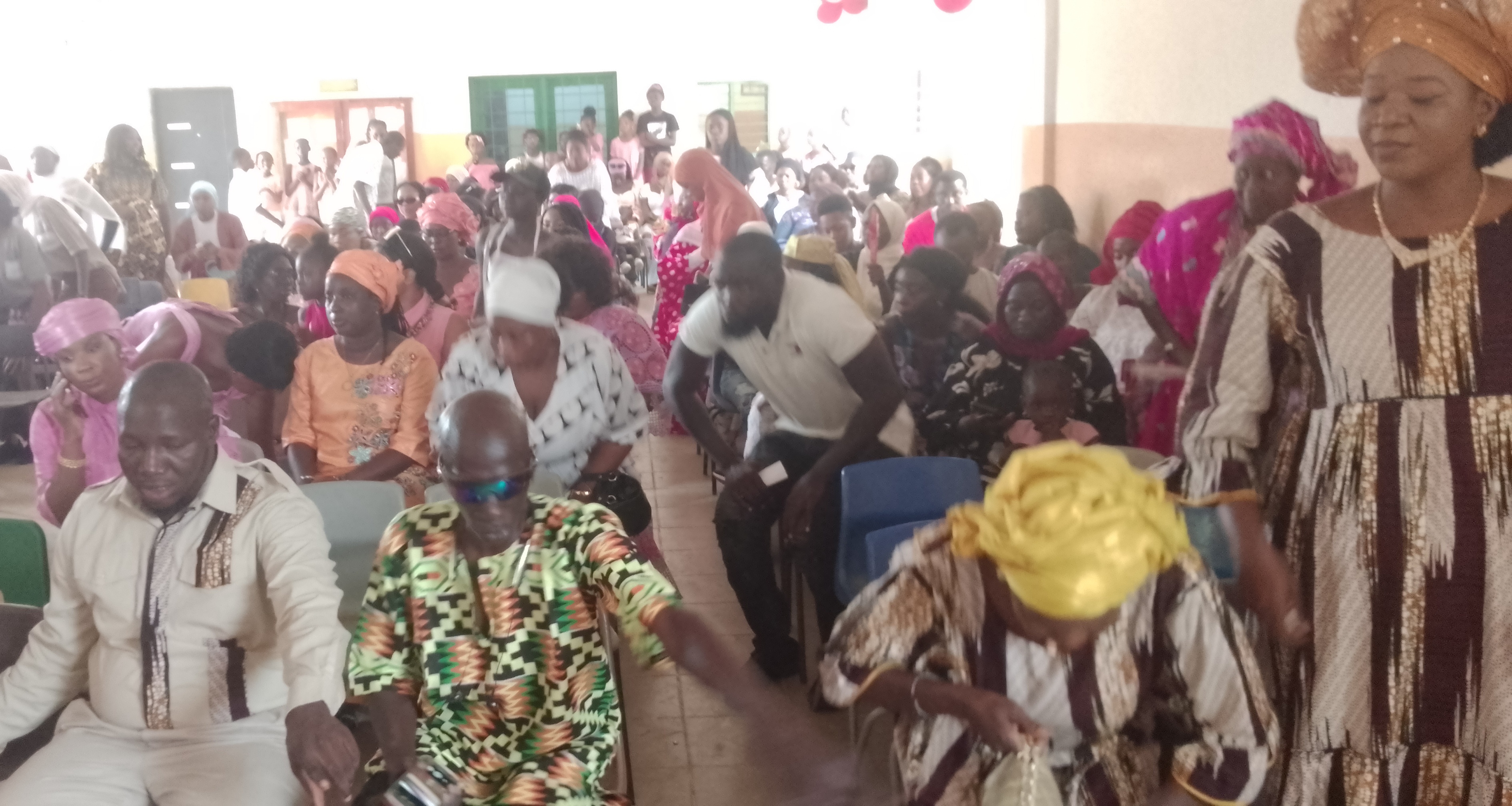 Pictures are shown of each class -
LB6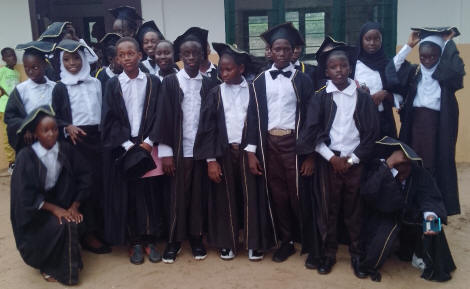 Skills 3
Guest speaker (ex-Sunrise Teacher Mr Ali Bah now teaching at Gambia University) and Ward Councillor Lamin Jammeh handed out certificates.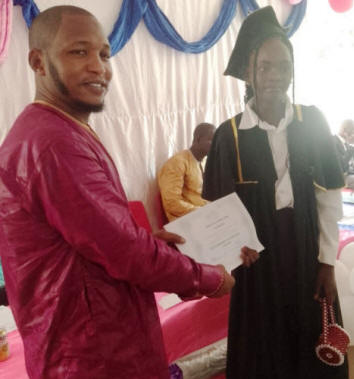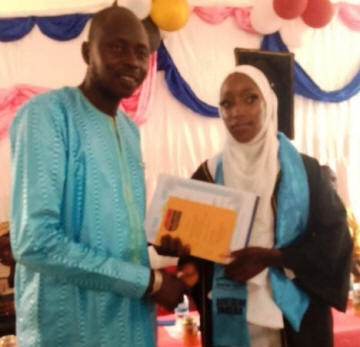 Skills excursion this year included the usual beach picnic but also visits to the crocodiles at Katchakally and then on to the Tourism and Hotel school nearby. Very informative.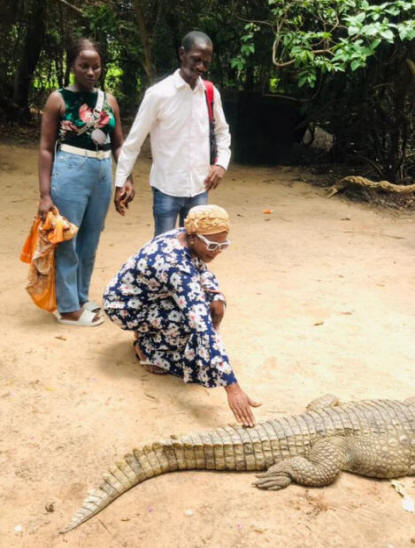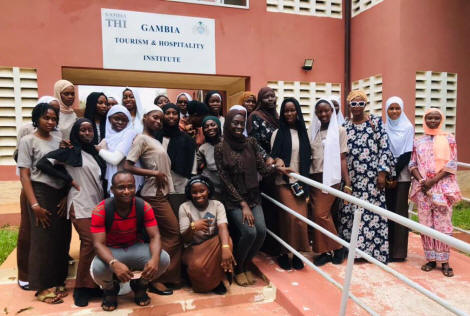 The final event of the term that we captured was a Talent show. A chance for students to enjoy some of their new skills and perform in front of the school. Skills students helped Mr Omar Gaye (LB6 Teacher) run this event.
Some pictures from among the many events -
Nursery balloon blowing -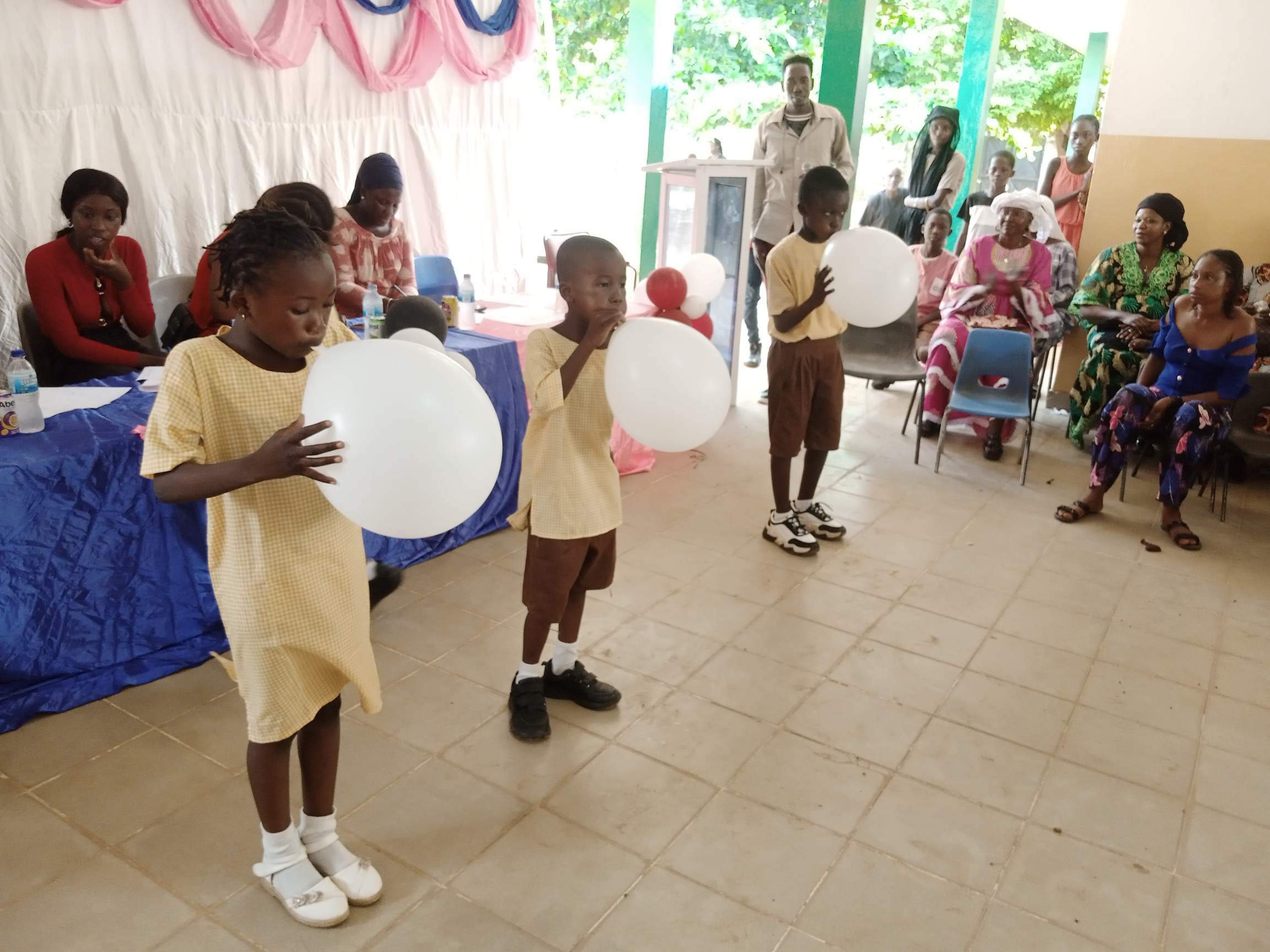 Kaddy Jawara presenting one of the prizes -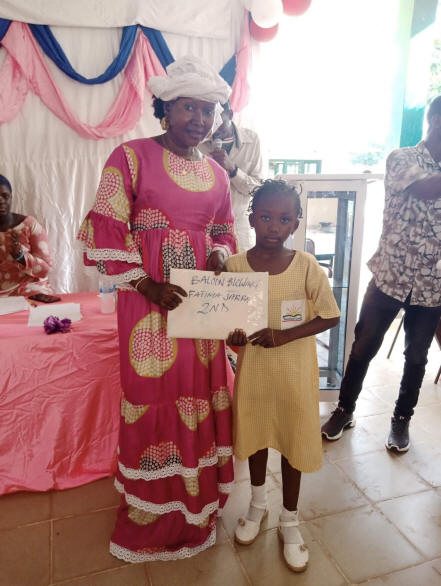 Ida won a certificate for the best Cultural Performance -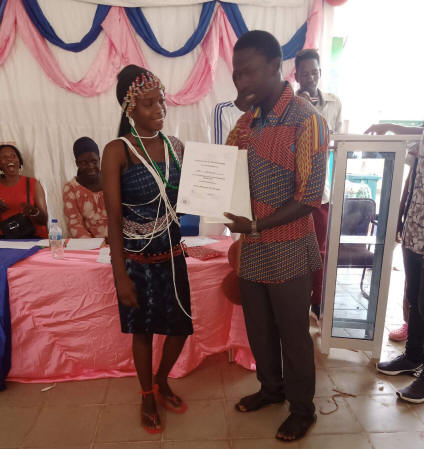 Abubacar was presented with a certificate from Fatou Nyassi for winning the Spelling Bee competitions.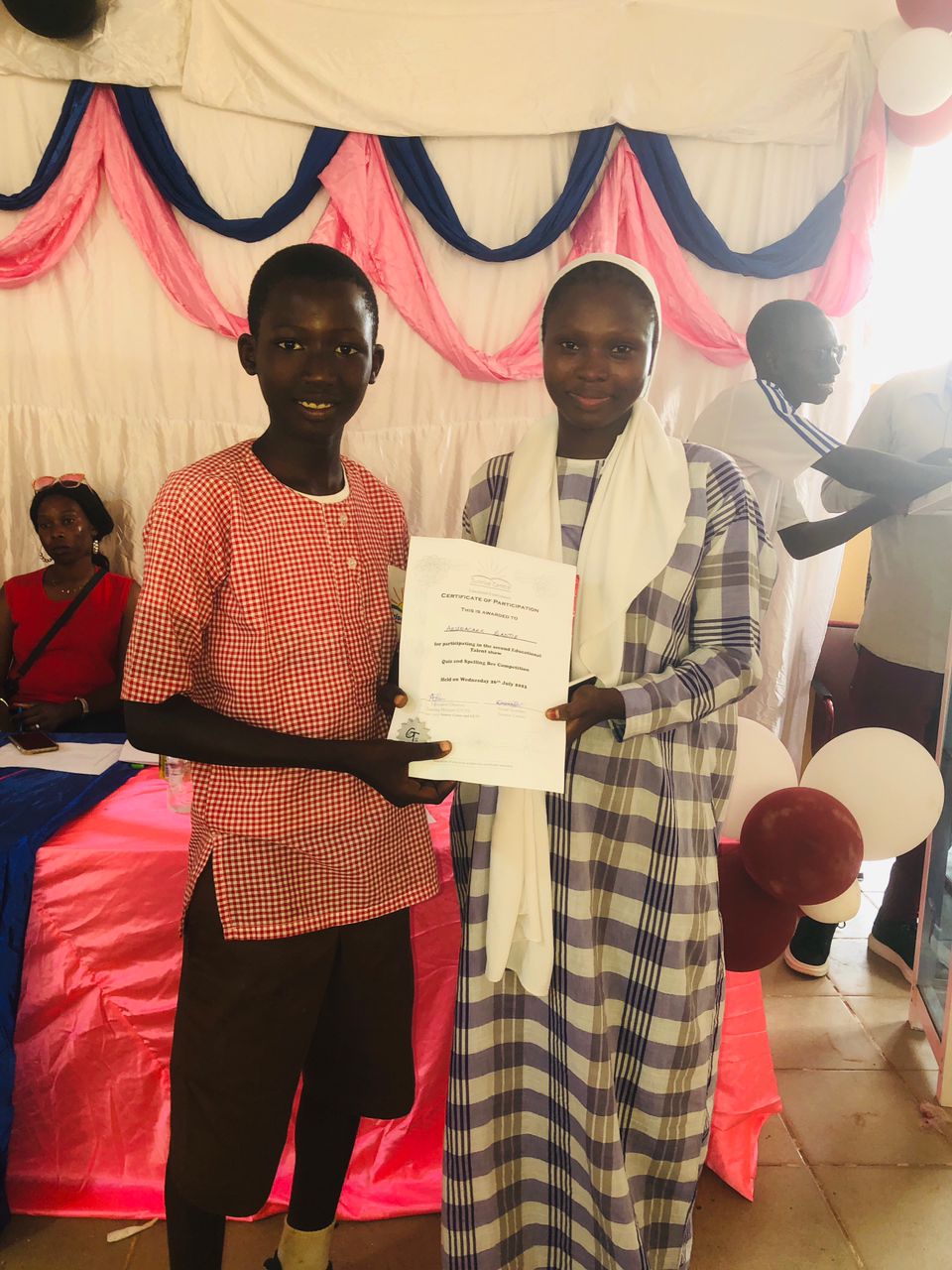 Outside Sunrise we caught some of the work that a local person funds, scraping the local roads around Sunrise, before the rains come and make travel much more difficult through the puddles.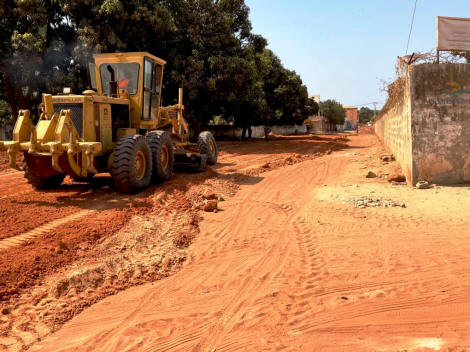 Inside our Nursery school the children concentrate well on the many and varied challenges they face as part of each day.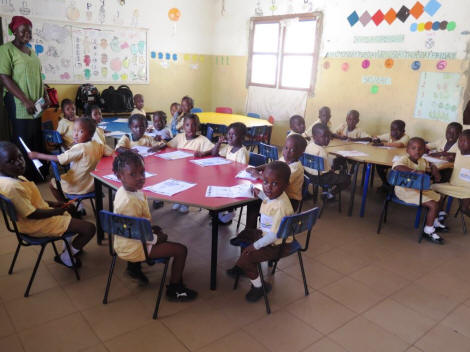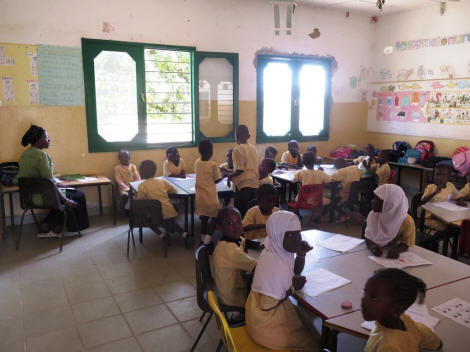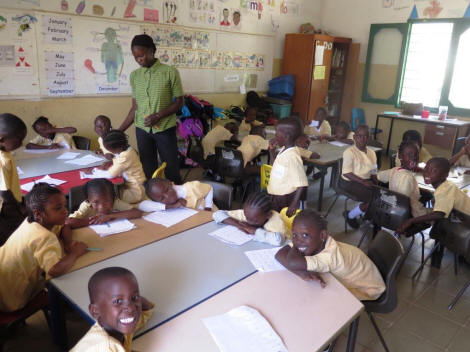 Outside in the playground its always fun to see the activities that happen without prompting, everyday. Things like a Gambian version of "French Skipping"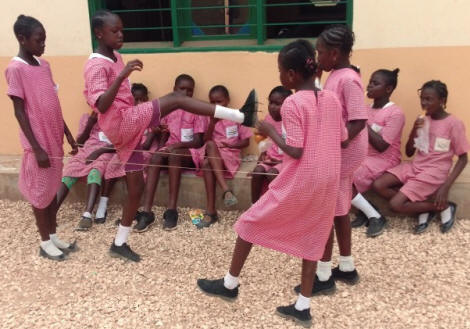 We have good playground equipment.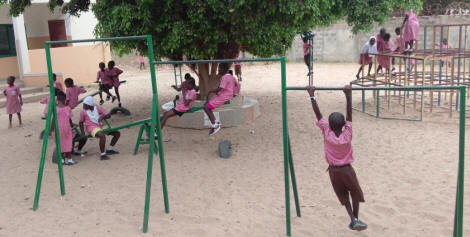 Often tested to its limits by the children!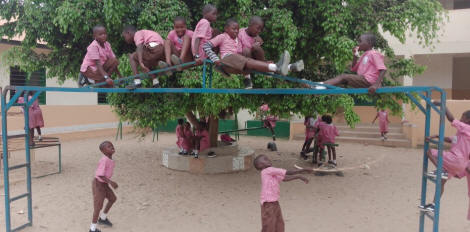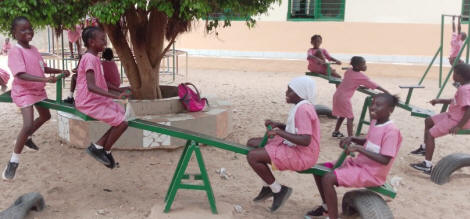 One day Tony saw a child (Elizabeth Megan Williams from N2) blowing bubbles with a mixture that had been sent into school. This was quite an unusual thing to see in Gambia.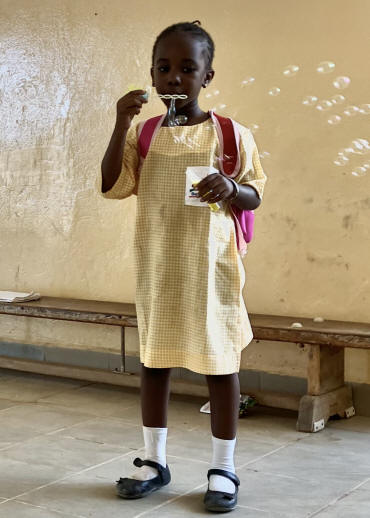 Our Hall is often used as a large space for unusual classroom activities. Like the day when our Lower Basic 2 teacher, Fatou Sama (who recently completed her 6 month probation), showed her class how soils can build up in layers due to their different compositions (using sand, loam and clay to illustrate the layers).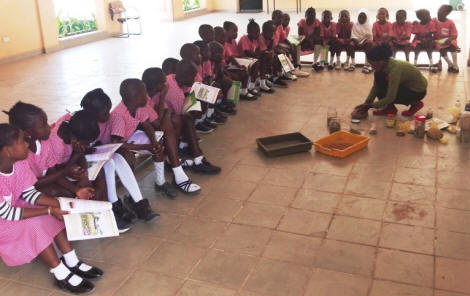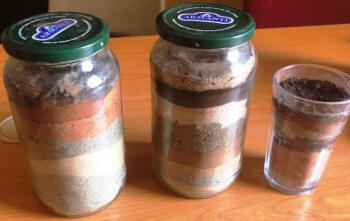 Another day LB1 were using different body parts to take measurements (picture shows legs!)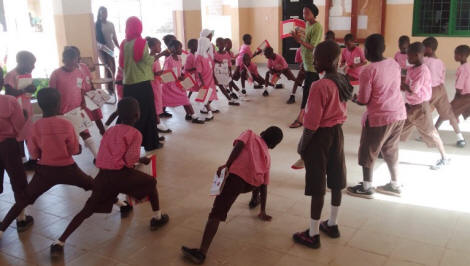 We have a Sports Day coming up and rehearsals were important for many wanting to do a good job when competing. N2 and 3 are practising for the three-legged race below.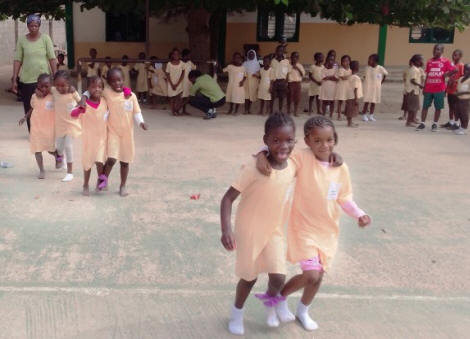 The Skills Year 3 final practical exams are well under way now. Tie and Dye practical work is everywhere. The drying lines are full of brightly coloured cloth and elsewhere the processes are underway. One of the girls (Fatou K Badjie) is pictured below working on second colour masking in the Tie and Dye process.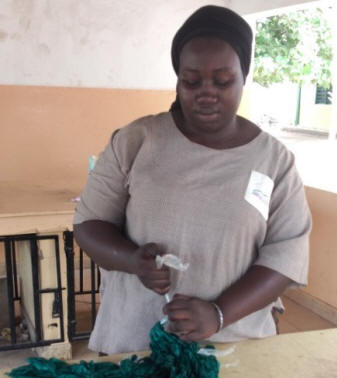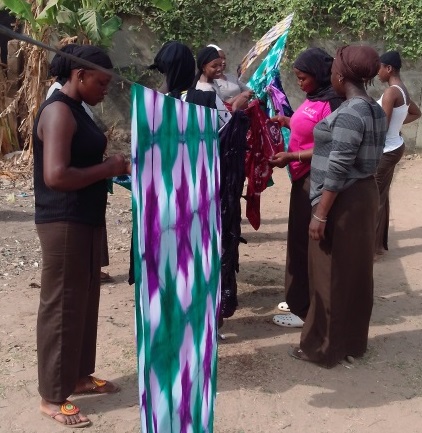 Mr Abdoulie Jallow (our new Cookery Teacher) is shown pictured supervising Year 3 skills doing their final practical exams in the Cookery area.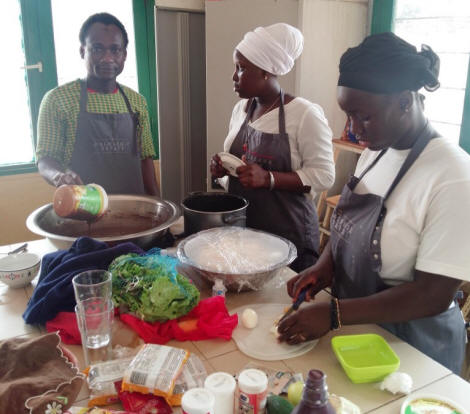 We always teach both Christians and Muslims in their separately in their own faith, Muslims as the larger group being taught in their usual classroom The picture shows Pastor Paul Badjan teaching Religious Education to his very small group in our smallest classroom (it is also the sewing store).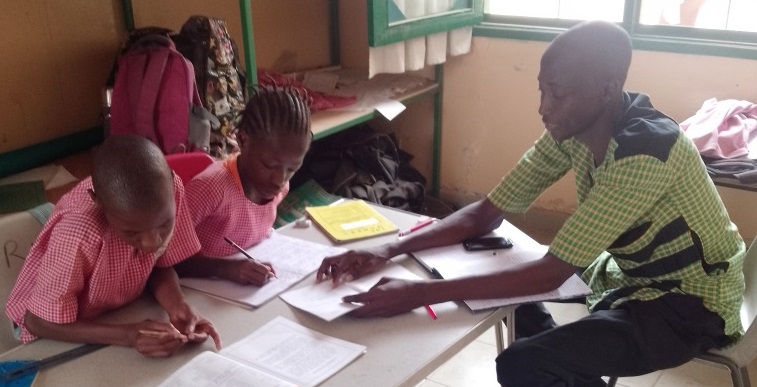 The father of one of the sponsored children donated some free bandages and plasters to our first aid stocks. We were delighted to have these.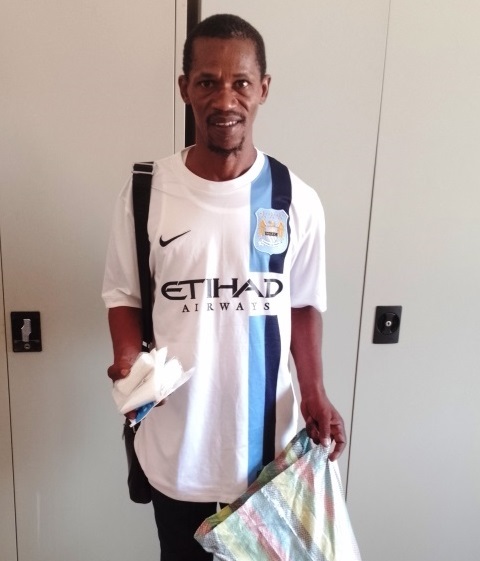 Our school garden is under preparation for its late crops to be sewn. This is an important skill to learn where most people do tend a garden to keep costs as low as possible.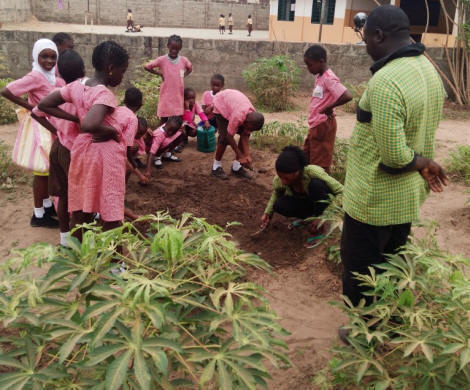 We've had a team for the World Health Organisation come to help parents understand the importance of the latest vaccines, brought to Sunrise for Rubella and Measles.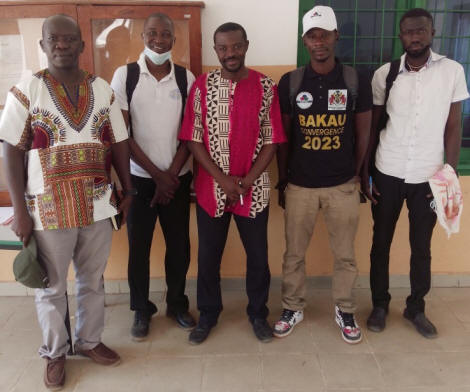 Lamin Sanyang (Health Inspector) visited us to support the vaccination program.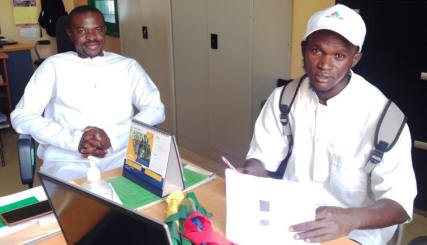 The day of the "jabs" came and most were brave (the age of the children was up to 5 years old). The others sat and sang songs and chants to clapping and stamping. What a sight.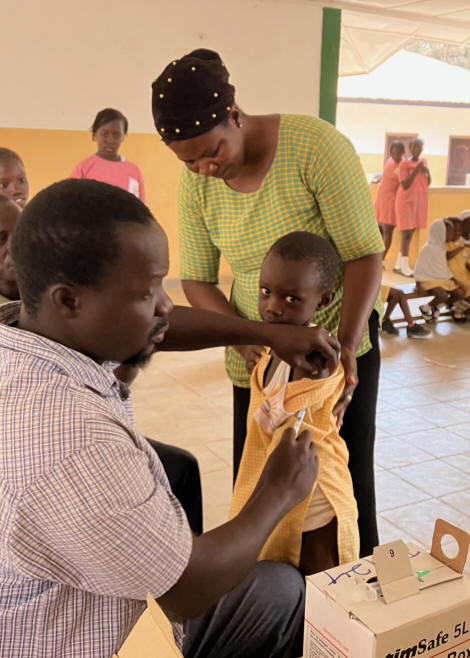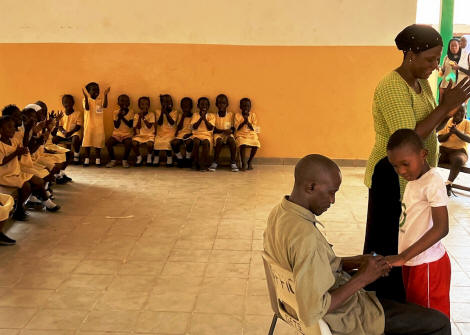 We have also had a visit from 3 Ministry of Education (MoBSE) accessors, here to test the phonics skills of our LB1, 2 and 3 students (10 students were randomly selected from each class).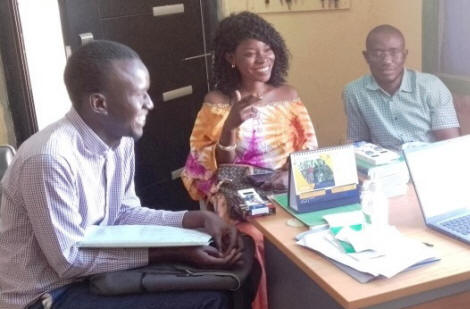 One of the quietest and best managed rooms in the school is our Library, with the help of Sainabou Sambou. She is pictured with students from Skills Year 3.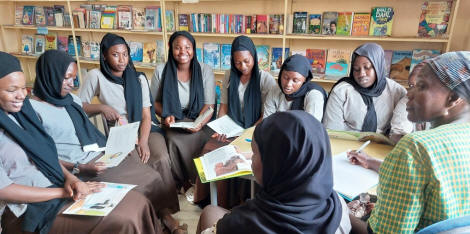 Sports Day is always an important time at Sunrise. Nursery and Lower Basic compete and some of the Skills Students help staff to manage and judge results.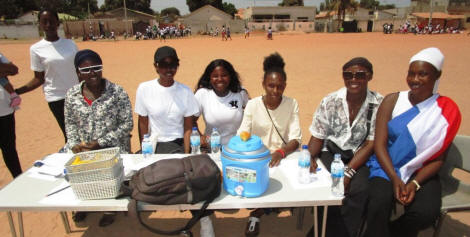 We had 4 houses (Kundas) – Red, Green, Blue and Yellow. Each supported by several members of staff.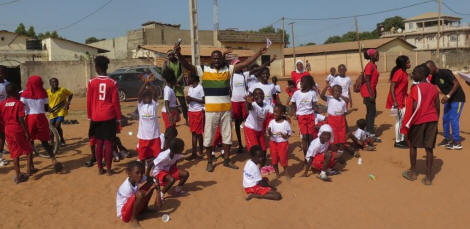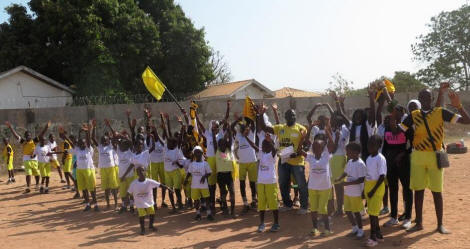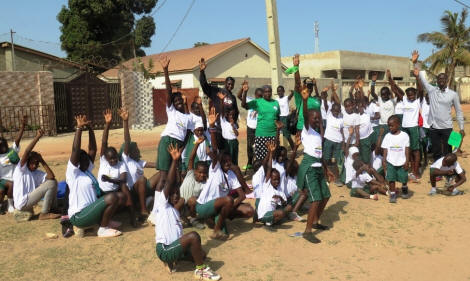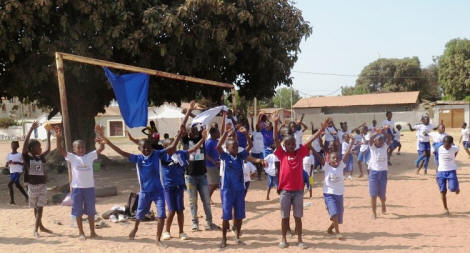 A giant PA system played music in between events and was used to call instructions for everyone within the giant field area.
Mr Cham (with the announcer's mike in his hand) and 2 of our first aiders were ready, "just in case".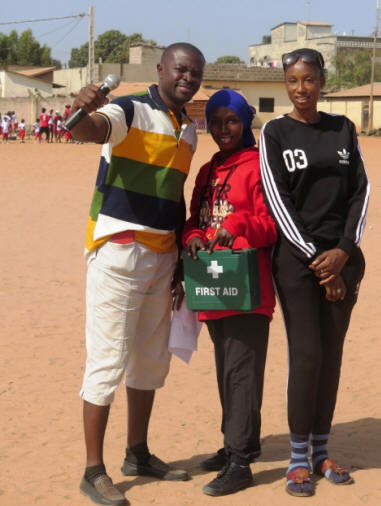 The level of competition and determination is obvious from these pictures.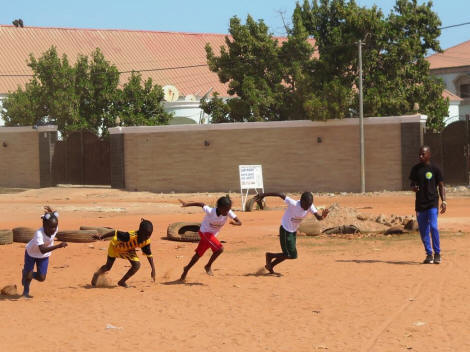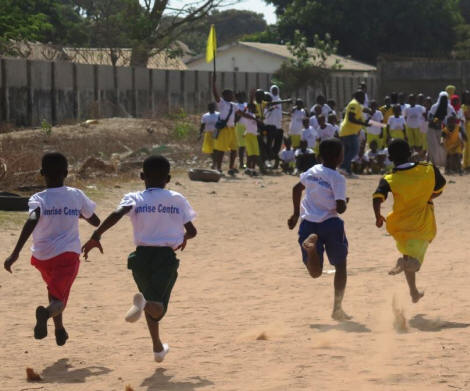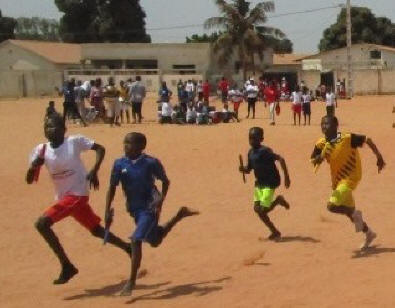 Some events took place later back in school, like the boys dressing race pictured here.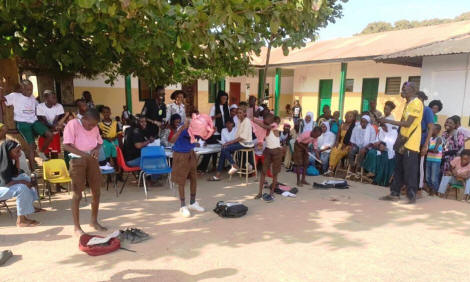 There were teachers' races of course.
Ladies result was 1. Fatou Sama 2. Fatou Singhateh 3. Fatou Nyassi 4. Sirrah Sambou
Mens result was . Adama Jallow 2. Bubacarr Jadama 3. Alkali Cham 4. Ebrima Kuyateh
I think age helped this result quite a bit.
Overall the Red House (Kunda) came first and Fatou Sama can be seen with some of the children from Red, holding up the Gambian flag, which they were awarded.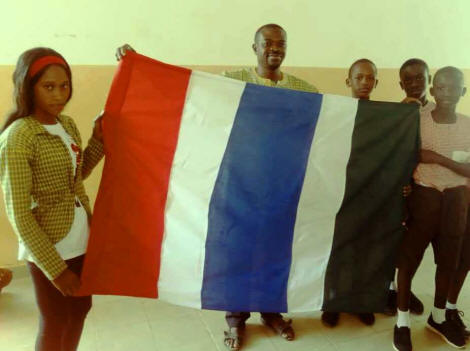 Finally it's always good to reflect on success and 2 of our teachers were called to receive their certificates at a formal graduation ceremony at Gambia College, also attended by Mr Cham. This is really a catch up for all of the certificates from the Covid period.
Mbacho Jallow received her 2020 Diploma in ECD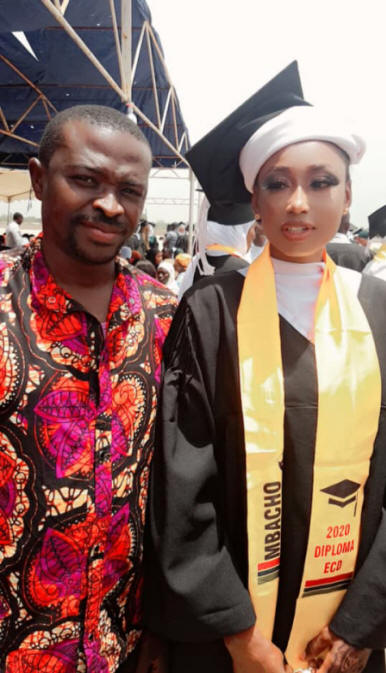 Abdoulie Jallow received his 2022 Advanced Diploma in Secondary Education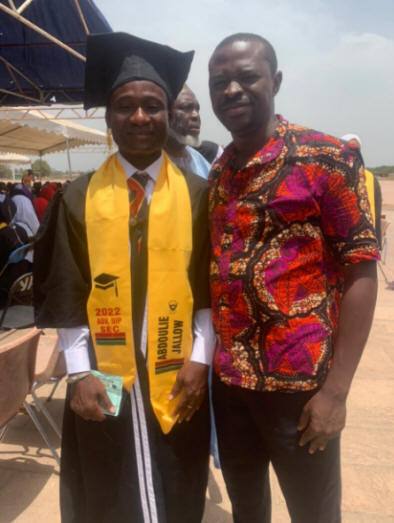 Well done to them both.