Week ending 14th February 2020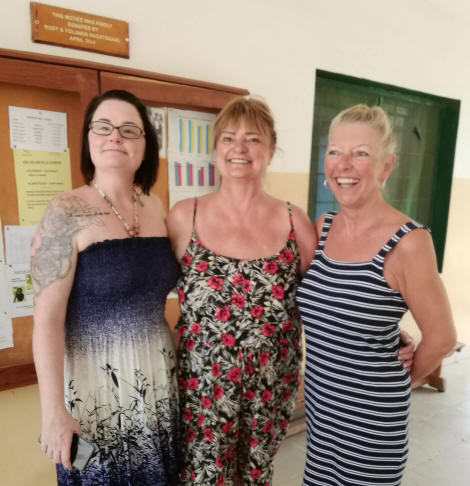 Denise Green, who helped in the office at Sunrise before moving to Spain, came to see us again, bringing her sister-in-law and her daughter to have a look at Sunrise.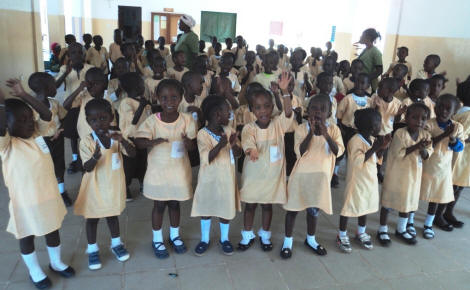 Nursery assembly is always a lively time as the children sing and clap with their teachers.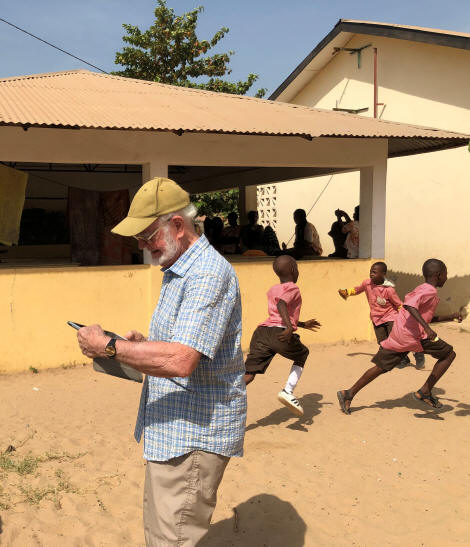 Paul was seen out and about during the Lower Basic break looking for photos for the blog. Despite the heat the boys were energetically playing their game!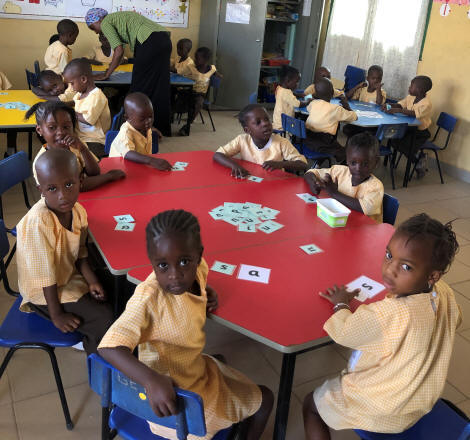 When Paul reached Nursery 1 some children on the red table by the door turned round to see what he was doing. The class was having a phonics lesson recognising the sounds and shapes of 's' and 'a'.
Having drawn their patterns onto white bazin with beeswax, the students in this skills class were ready to add colour using various dyes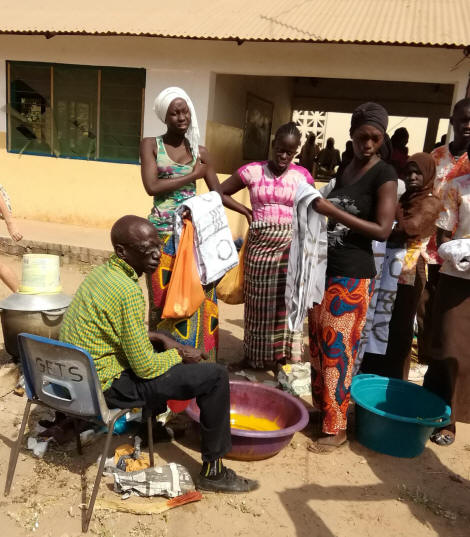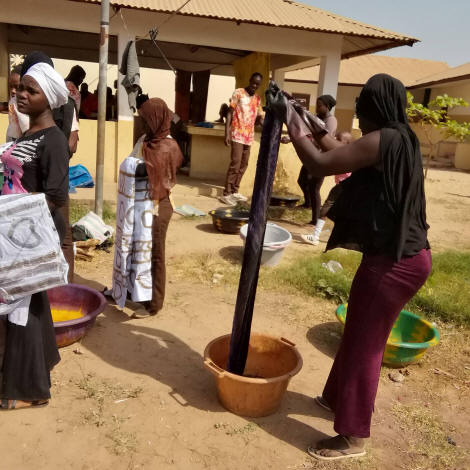 At the end of the procss they were laying their material out on the hall floor.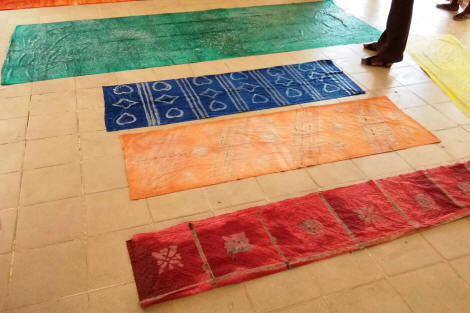 We got a lovely smile from this skills student sitting quietly decorating a pair of flip flops for her friend.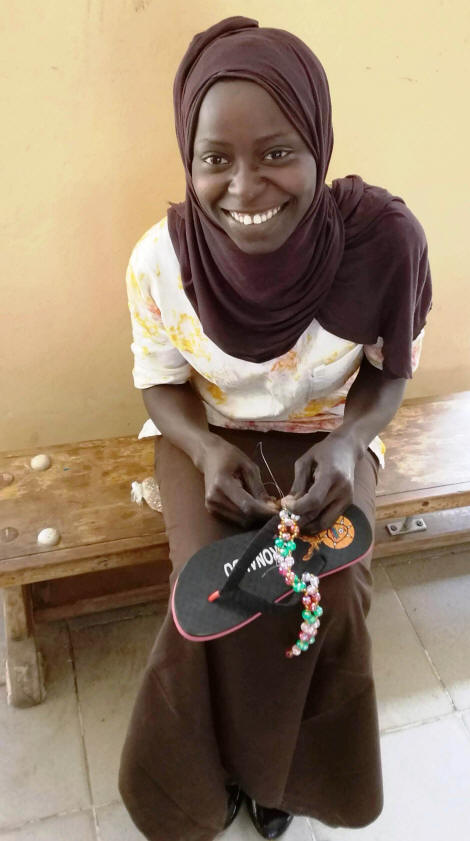 Week ending 7th February 2020
This week Louise, Dawn and Paul's other daughter, made her first visit to Sunrise. Here she is with Jojo as the girls in the Skills 2 cookery class said that they looked like twins!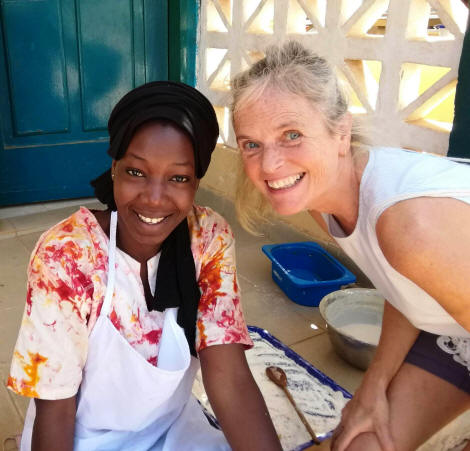 Skills 1 were making different combinations of fruit smoothies. Here a pineapple was being carefully prepared to keep all the goodness without wasting any of the fruit.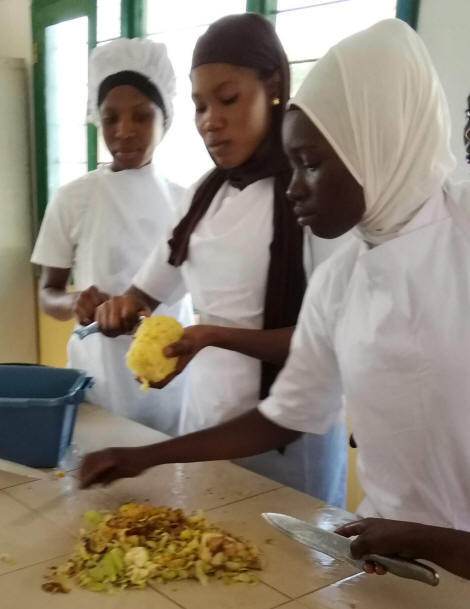 The slices of peeled water melon had all their seeds removed, the apples were peeled, cored and sliced then kept in a covered bowl of water so they did not go brown, lemons and oranges were peeled, sliced and seeds removed. Bananas, peeled and sliced were ready to add to any of the various fruit mixes or put aside to make a milkshake.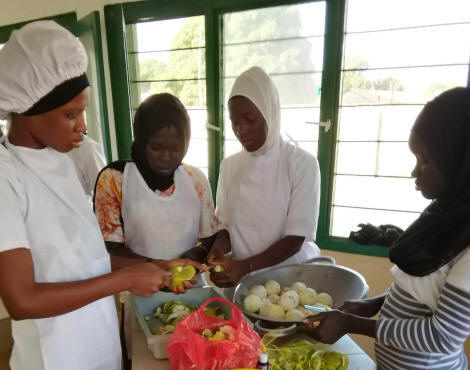 After all the preparation came the fun of blending the prepared fruits to make a variety of smoothies - followed by enjoying drinking the results!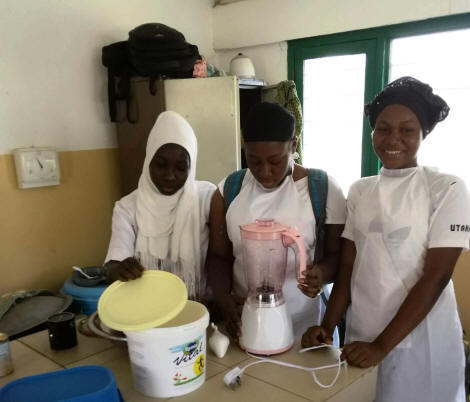 The library is popular with every visitor to Sunrise, Louise happy to help with hearing the children read. Perhaps I should add at this point that both Gabi and Louise are recently retired teachers.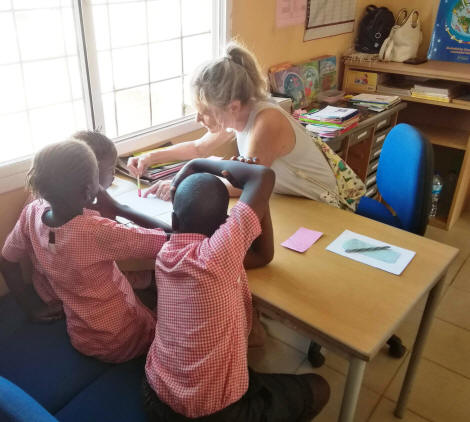 Because the weather is so hot the LB1 girls congregated under the biggest tree in Sunrise to take advantage of the shade during PE. Whilst the boys were playing football the girls were having fun with clapping, singing and dancing games.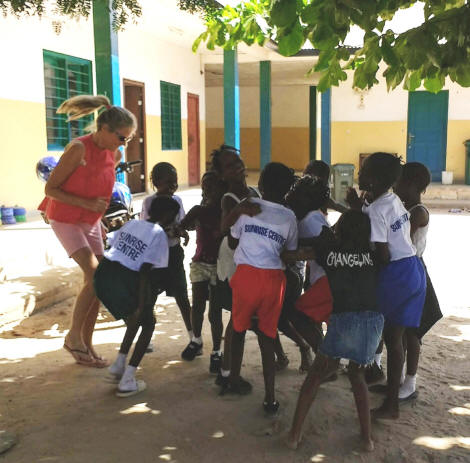 Watching them were two nursery girls, waiting for older sisters to finish school and take them home.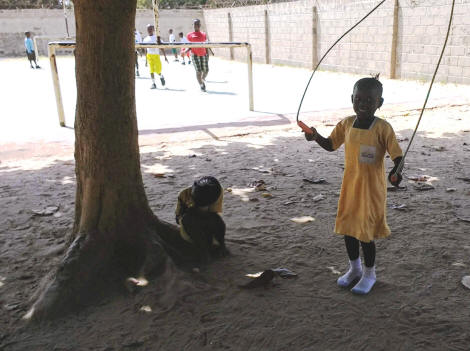 Skills 2 were making cupcakes this week. Jojo is mixing the ingredients whilst Modou Lamin is preparing the trays ready for filling with the cake mix and putting in the oven to bake.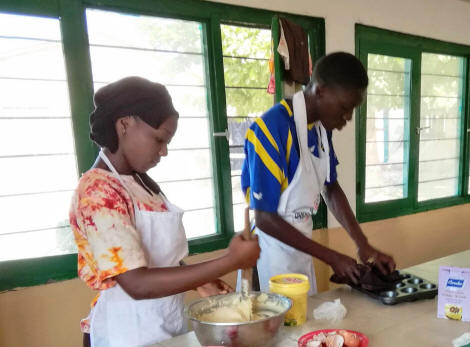 You can see that none got burnt! After the cupcakes are baked comes the fun bit, decorating them with pink and white icing.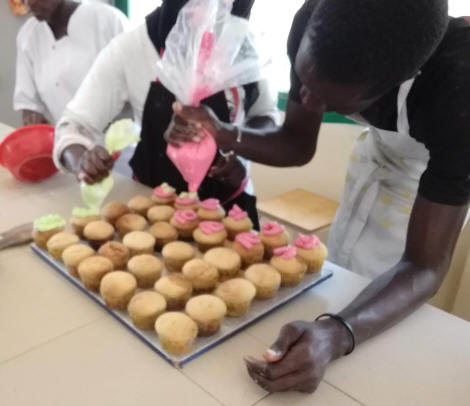 The final touches of blue and they are done.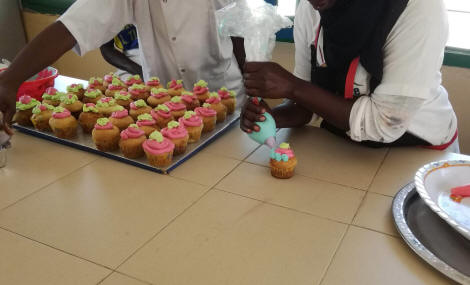 Steve sampling the finished product - I won't put the picture that came next, after a big bite!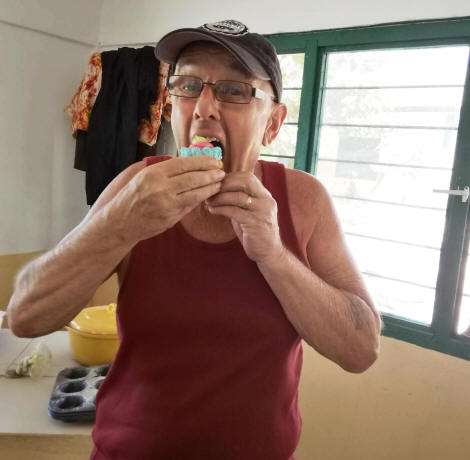 Week ending 31st January 2020
This week Paul and Dawn, two of GETS' Trustees arrived at Sunrise with their daughter, Gabi, and her husband, David. Although Gabi and David had been to Africa before this was their first visit to Gambia and Sunrise. They really enjoyed seeing Sunrise and spent a lot of time in the library.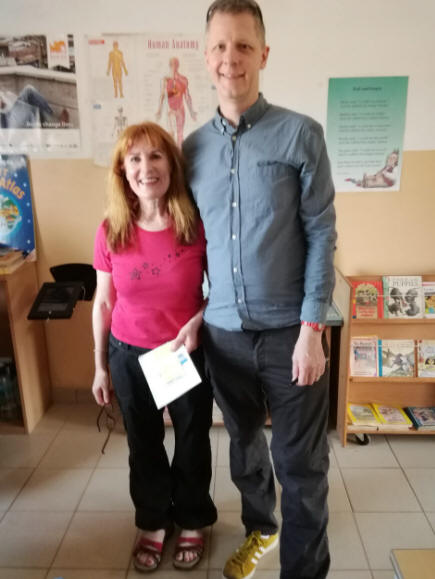 Students in our skills classes have a wide range of reading ability and whilst some are happy choosing from the wide range of books available there are some who have never mastered reading. Our librarian, Sainabou, makes a point of helping those who are not yet fluent readers. so is pleased when visitors and regular volunteers hear students read, giving them extra help and encouragement.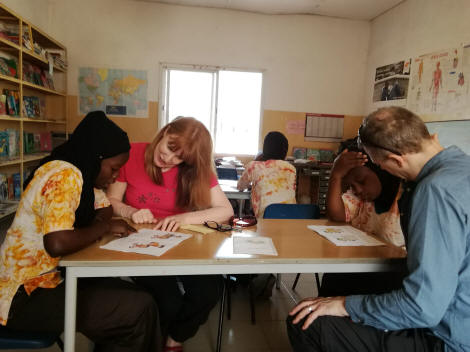 It is far hotter than usual for this time of year in Gambia so we are very pleased that the tree planted in the middle of the playground has grown enough to give a little bit of shade when the children are having their morning break.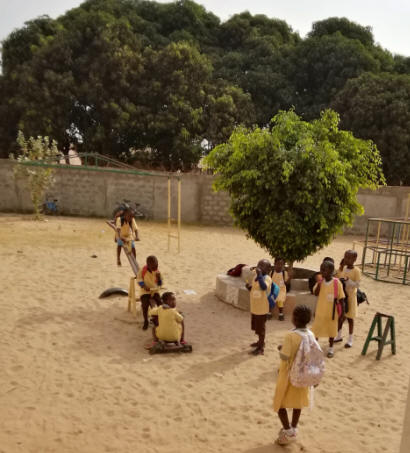 As our LB6 teacher is currently on paternity leave, Sulayman Jobe, one of our recently qualified primary teachers, was taking his class for maths.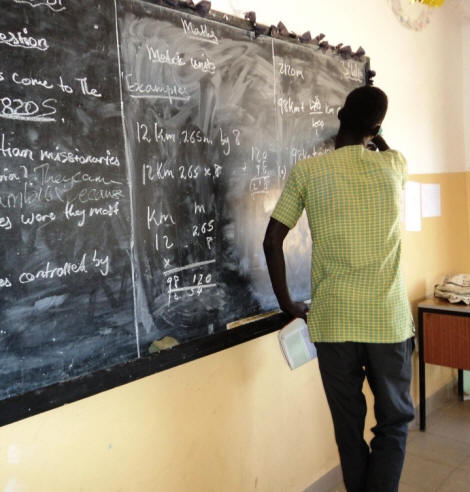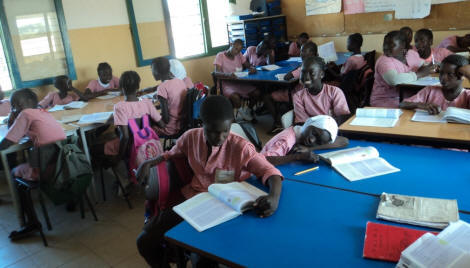 Maths in Nursery 1 involved much lower numbers! They were recognising numbers up to 10 and singing songs like 'Ten little fingers'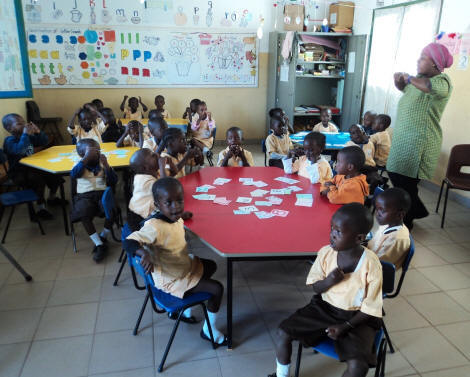 Although the nights are cooler (20-23degrees} the daily top temperatures for Banjul on the BBC weather site vary between 38 and 42 degrees- so the garden needs a lot of watering!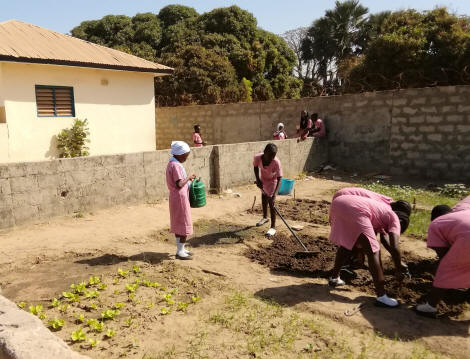 Week ending 24th January 2020
It's good to see the Skills Training students displaying practical work that is finished and ready to wear. This time it was a shirt, made by Binta Sonko from Skills year 2. She was very proud of her work and with good reason!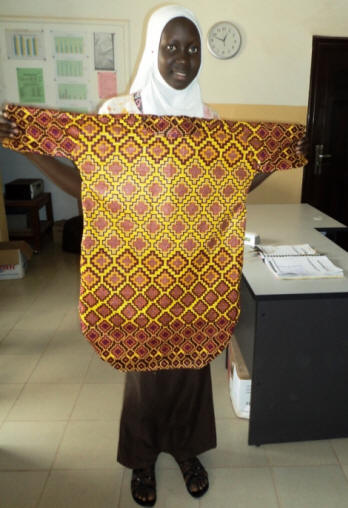 Each week the sound of children singing comes loud and clear from the hall. The Nursery children were "acting out" songs with one of their teachers, Mrs Sally Ceesay. They were certainly in good voice and it always seems to get the children energised in the mornings.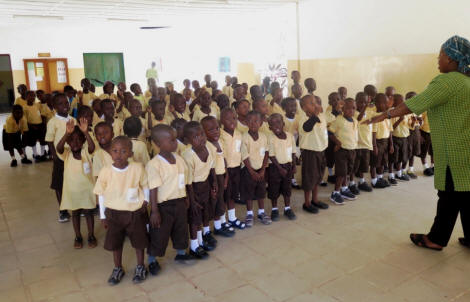 We are delighted that our long term supporters and friends, Chris and Steve Humphries are with us again. Chris does many things for us including helping with the youngsters who struggle with reading. Steve (pictured) helps us maintain our second hand classroom chairs. These were brought to Gambia after the end of their life in a UK school so they've lasted well, really. However Steve has to regularly put them back together, discarding the ones with the worst damage.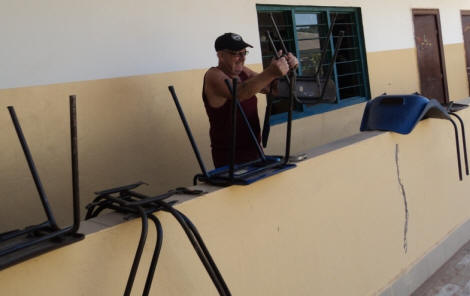 Steve has also lined up a set of chairs to go to the welder-man, nearby, who patches up any broken metal work to give chairs a third or fourth life!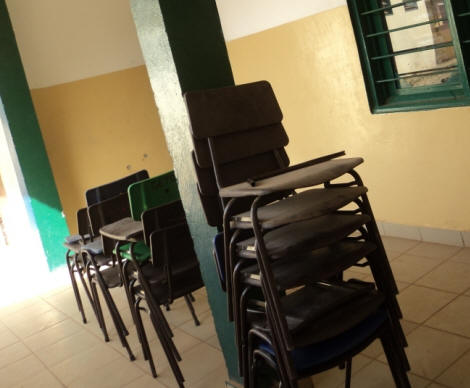 Weeks ending 17th January 2020
School has now restarted after the Christmas break and the school is looking good, thanks to our wonderful cleaner, Awa Nyassi, who cleans the whole school now. Our previous cleaner has left to further her education and Awa wants to see if she can manage since the extra cash is really welcome.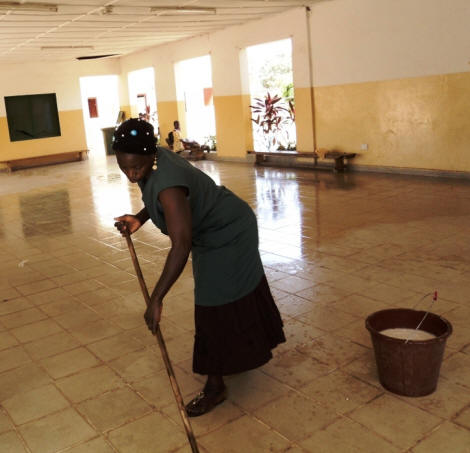 Break time is pretty normal with ad hoc games, including French skipping, whilst others just chat. The mornings are cool now (under 20C) and children often wear extra clothes under their uniforms until the day warms to the normal 30-35C.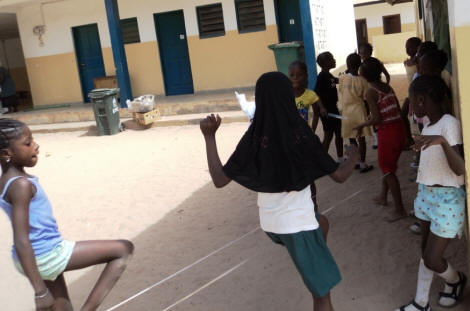 More formal games take place on the sports area. Margret Mendy (LB Head girl) is supervising an LB2 game of football.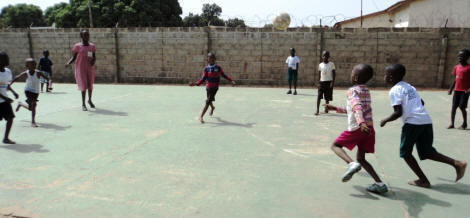 At the end of every day some of the Nursery children, who finish at 1230, have to wait more than an hour for older brothers and sisters, who are in classes elsewhere in Sunrise, before going home. This time can be boring for the children and although they play or chat, sometime there are problems for staff to sort out.