Support Sunrise - download a donation form
Projects and Wish List
Colour laser printer - £550
If you are visiting Sunrise
can you find room in your luggage for any of these items?

HP Laserjet Cartridge - 79A
Black and red biros
standard size energy saving light bulbs - screw fitting
For the Nursery &Lower Basic Classes



Colouring books
Beginners' triangular HB pencils
Beginners' triangular pencil crayons
Simple jigsaws
First books - board not paper
6 count Binca canvas
Anchor soft embroidery thread
Embroidery needles - with large eyes


For the Skills Classes

Knitting wool
Embroidery silks and needles
Children's Cookery
by Roz Denny and Caroline Waldegrave
ISBN 0-7445-6990-7
Home Economics
ISBN 978-175-545-3
Y shape vegetable peelers x 20-
Simple hand whisks x 20
Some of our finished projects
Building our six classroom Lower Basic School

Building a bigger office for the administration staff

The bantaba, used for teaching cookery and tie and dye to the skills classes, was built with the money donated by Tony Bound and Erica Wren in memory of Erica's parents.

Renewing the electrics
Repairing the toilets
Providing desks for the skills classes
Updating the internet service
Solar panels

A watchmen's hut at the main gate into Sunrise was built with the money donated by Chris Rice and Helen.
The £69,000 needed for a Lower Basic School has already been raised - many, many thanks to all our supporters!

We have raised £15,700 to build and equip a new classroom for 3-4 year olds and also add more toilets for the nursery children.
We have also raised £7,000 to build a new Skills classroom.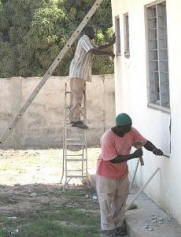 Painting the school - inside and out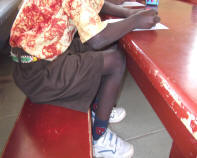 Bigger tables and chairs were urgently needed for the nursery - they were there by September 2012